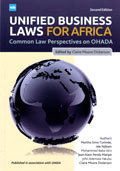 We have the pleasure to announce the publication of a fully updated second edition of "Unified Business Laws for Africa: Common Law Perspectives on OHADA" by IEDP in the United Kingdom.
The book has been published in association with UNIDA, with the support of UNIDA's US Chapter and the Foundation for a Unified Business Law in Africa (FUBLA), both located in New York, USA and headed by Nady Mayifuila, Esq.
Edited by Claire Moore Dickerson, Professor of Law & Senator John B. Breaux Chair in Law, Tulane University School of Law, New Orleans, Louisiana, USA, the book's authors, in addition to Professor Dickerson, are:
Hon. Justice Mohammed Baba Idris, Ph.D., Hon. Judge of the Federal High Court, Nigeria;
Jean Alain Penda Matipe, Ph. D., President UNIDA US Chapter and FUBLA, New York USA;
Martha Simo Tumnde née Njikam, Ph.D., Associate Professor of Law and Dean, Faculty of Social and Management Sciences, University of Buea, Cameroon; Barrister and Solicitor of the Supreme Court of Cameroon;
The late John Ademola Yakubu, Professor of Law, University of Ibadan, Nigeria.
The accession of the Democratic Republic of Congo to the OHADA Treaty as the seventeenth member state, is a major development for Africa and for OHADA which now is the business law of 250 million people. Understanding the OHADA laws is therefore crucial for any organization investing in or transacting business in Africa.
This updated second edition introduces OHADA laws to common-law trained, English-speaking legal professionals who have current or prospective clients engaged in West or Central Africa. It offers a tantalizing view of the highest technical level of commercial legal practice in the OHADA region, and includes a comparison with neighboring common-law jurisdictions. It includes analysis of the 2011 revisions to the OHADA Uniform Acts (statutes) on commercial law and on security interests, and provides the first translations into English of each revised article (section) cited in the text.
Through this second edition of the "Unified Business Laws for Africa: Common Law Perspectives on OHADA" UNIDA US Chapter and FUBLA continue their efforts to disseminate information about OHADA to the English-speaking world.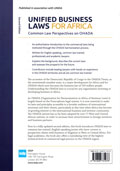 This book is a strategic project initiated and conducted by UNIDA, UNIDA US Chapter and FUBLA, in close partnership with the OHADA Permanent Secretariat, the OHADA Regional Training Centre for Legal Officers (ERSUMA), the West African Economic and Monetary Union (UEMOA) and the European Union (EU). The objective is to make OHADA accessible in all the languages of the OHADA Treaty. Similar initiatives have already been completed in Spanish, Portuguese and French. Extending beyond the OHADA Treaty's official working languages, in September an explication of OHADA is also to be published in German , to open OHADA to the German-speaking world.
To order the book, please contact:
Joseph KAMGA: + 33 (0) 6 81 27 79 10, Email: kamgajoe@gmail.com or write to Joseph KAMGA at UNIDA, 7, avenue de Ségur 75007, Paris France.
Price: 50 Euros. (Shipping and handling fees will be borne by the UNIDA.)
Payment methods:
By cheque to the order of UNIDA;
By transfer to UNIDA's account at BNP PARIBAS; further account information to be provided by Mr. Joseph KAMGA upon request.
The book is also as of today available for purchase at the following bookstore: Librairie LGDJ, 20 Rue Soufflot, 75005 Paris, France (Contact: isabelle.chaffanjon@lgdj.fr or gilles.bastogy@lgdj.fr) Tel:+ 33 (0) 1 46 33 89 85.